15
15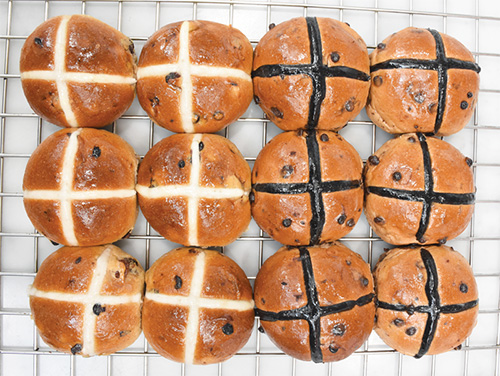 Working Method
Decoration
 Before baking, cross mix recipe: Soft flour 300g, water +/- 320g, vegetable oil 50g, modified wheat starch 10g.
 Once baked, finish with a mix of 1Litre Sunset Glaze with 800g of fine caster sugar.
Tips & Tricks
Soak the dry fruit over night in cool water.
Back mix on slow speed the spice, sourdough and fruit. Add inclusions once dough has developed.
For Chocolate Hot Cross Buns, replace sultanas and currants with 450g Belcolade Noir Selection.
For the Chocolate cross mix, take out 100g of the flour and add 100g of cocoa powder.
About this recipe
Complexity level: