15
15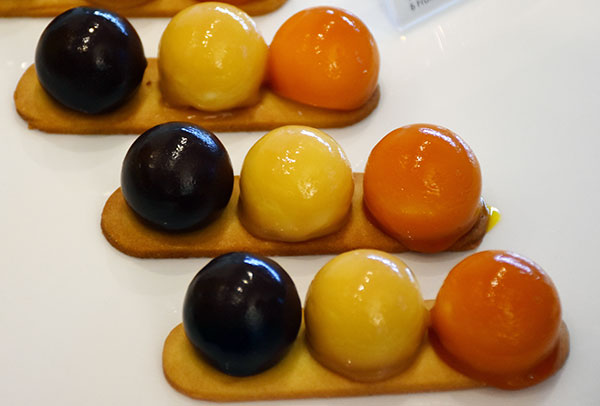 Working Method
Gananche (dark)
Place dark chocolate in a bowl and melt over a baine marine
Heat cream slightly up (do not boil). Stir into melted chocolate to make a ganache.
Fold cream under
Pipe into moulds (12g) and squeeze one nut into the center, then freeze
---
Ganache (amber and white)
Bring sugar to boil (118°C) and pour over egg yolk mixture, add melted gelatine
Semi whip cream, fold through melted chocolate
Fold through sabayon
Pipe into moulds (12g), pipe in filling (2g) and freeze
---
Base
Cream butter and icing sugar
Emulsify eggs and add flour
Cool down, roll out and bake desired size
---
Glaze
Melt chocolate, add warm glaze to chocolate and emulsify
Mix cocoa powder with water and add to above.
Warm up to 40°C and use a stick blender to smooth out glaze.
---
Assembling
Fill mousse into moulds, push Passionfruit and sponge inserts into mousse
Top off with some more mousse if needed
Flatten the top and place into freezer.
---
Finishing
Once completely frozen de-mould and glaze with pre-prepared glaze.
Place glazed mousse on the base and decorate
---
About this Recipe
Complexity level: